Putin's Soviet Revival Misfires
The USSR was better than Russia at hockey, space launches and other things.
by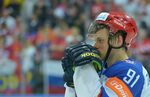 One of the pillars of President Vladimir Putin's new national ideology is that Russia should occupy the Soviet Union's onetime prominent place in the world. That aspiration, however, keeps hitting snags in areas where the Soviet Union excelled, such as space launches and ice hockey. These misfires  may present a bigger threat to Putin's regime than falling living standards.