Press Record on Cockpit Cameras
Black boxes sometimes aren't enough.
by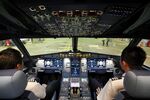 Thanks to cockpit data recorders, investigators know the precise time Andreas Lubitz sent Germanwings Flight 9525 into a mountainside and the maneuvers he used to do so. But when it comes to evaluating Lubitz's psychology as the plane crashed, investigators have had little more to work from than a cockpit voice recording that, according to French prosecutors, revealed he was breathing steadily during the plane's descent. Images that more clearly portray Lubitz's state of mind -- and offer more insight into how such tragedies can be prevented in the future -- aren't available. That's because cockpit video cameras have never been required by any airline regulator.