A New York Theory for Maryland Taxes
Justices' hometown interests might explain strange conservative-liberal divide.
by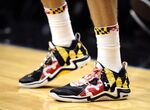 The U.S. Supreme Court was mostly in cleanup mode on Monday, disposing of six cases, four of them unanimously and a fifth almost unanimously.  In the sixth case, the court decided that Maryland can't double tax certain income earned by its residents out-of-state -- and that opinion drew one of the strangest 5-4 lineups I've ever seen.