The Real Winners in Modi's India
Farmers and CEOs are disappointed. Not Hindu nationalists.
by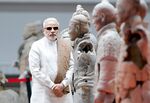 One year after being triumphantly elected, Narendra Modi's Hindu nationalist government appears to be floundering -- a perception now shared across the ideological spectrum. Former right-wing minister Arun Shourie, who previously hailed Modi as India's savior, called the government "directionless" in a recent interview, and said it had caused "great anxiety" among religious minorities.