The New Economics of Having It All
You can't escape the trade-off between equality and efficiency.
by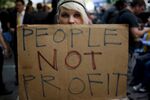 The Brookings Institution has just republished a classic study on  economic policy -- Arthur Okun's "Equality and Efficiency: The Big Tradeoff," which first came out in 1975. It's a favorite book that really shaped my thinking. Re-reading the new edition I thought it had lost none of its force. If anything, I think it's gained some.