Thailand's Crisis, Myanmar's Shame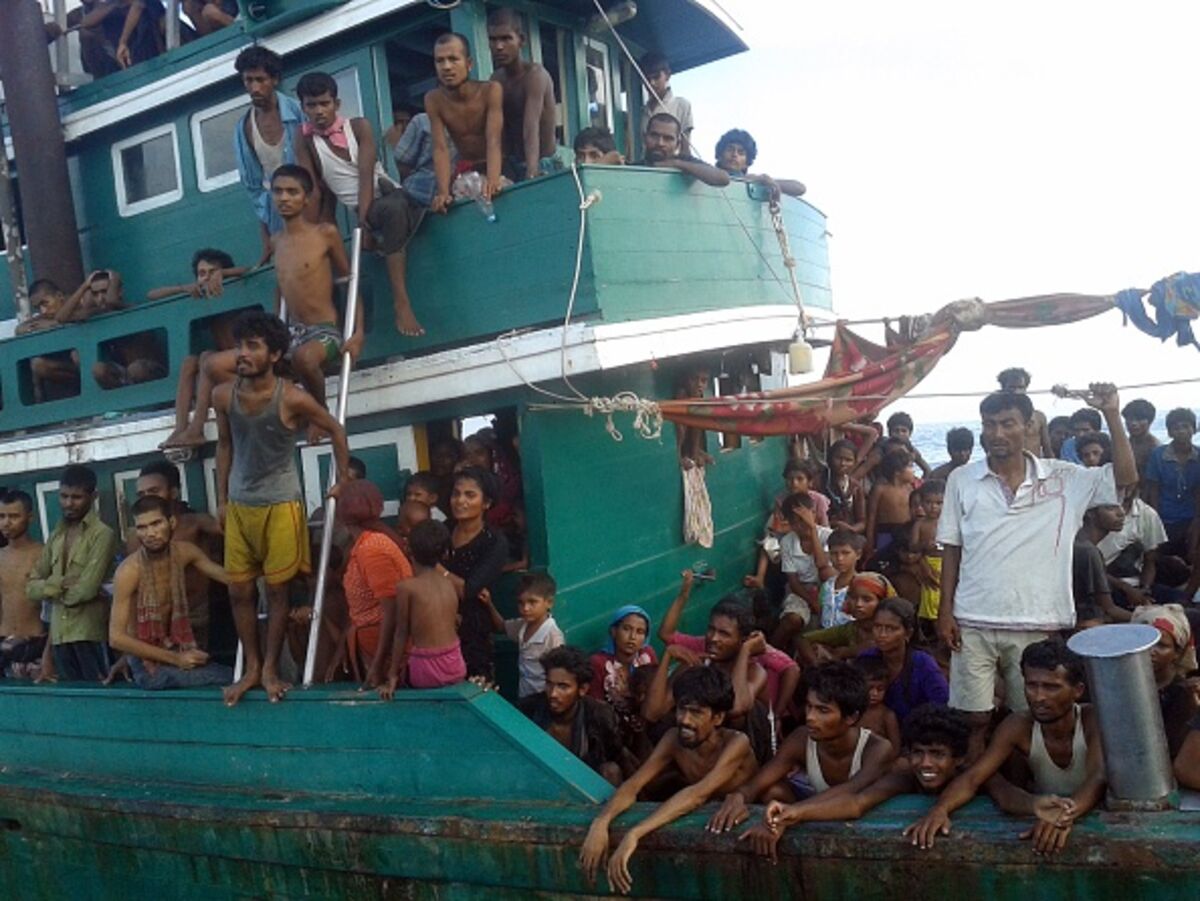 They need reasons not to flee.
Photographer: CHRISTOPHE ARCHAMBAULT/AFP/Getty Images
International pressure to address a humanitarian crisis in Thailand has exposed another one in Myanmar. Now the world -- and especially Southeast Asia -- has no choice but to deal with both of them together.
The U.S. and European nations have been urging Thailand to combat human trafficking for some time, and it's working: Thai authorities recently made several arrests in cases against criminal gangs that smuggle migrants from Myanmar. In response, however, many of those smugglers are abandoning their cargoes, setting adrift possibly thousands of would-be migrants without food, fuel or water. Regional navies have vowed to turn the vessels away, for fear of encouraging others to attempt the journey.
Countries such as Malaysia, Indonesia and Thailand should certainly heed U.N. pleas to allow the refugees to land. But this is also the moment to address the trafficking problem at its source.
Many if not most of the stranded migrants are Rohingya Muslims from Myanmar's coastal Rakhine state. More than 120,000 Rohingya have fled Rakhine since 2012, and the pace nearly doubled in the first quarter of 2015. Long considered interlopers imported by the British during colonial times from what is now Bangladesh, the 1-million-plus Rohingya community suffers virulent discrimination in Myanmar. Denied full citizenship, they also face restrictions on their freedom to move, marry and worship; earlier this year, they lost the right to vote.
Conditions have deteriorated steadily since anti-Muslim riots swept Rakhine in 2012. As many as 150,000 Rohingya remain trapped in displacement camps that lack sanitation, sufficient food and proper medical care. It's little wonder so many are willing to place their fates in the hands of smugglers, who have held some for ransom and sold others into virtual slavery.
The Burmese government has to do much more to reverse this outflow. The easiest place to start, relatively speaking, is by improving conditions in Rakhine's refugee camps. While humanitarian agencies are at work again after a one-month halt last year, levels of assistance remain inadequate. Aid groups are limited by the number of local staff they can employ and other logistical hurdles. Authorities also need to reach out to tens of thousands of Rohingya living in apartheid-like conditions in isolated villages, largely cut off from aid and access to livelihoods.
More broadly, the government needs to find a way to integrate the Rohingya -- many of whom trace their ancestry back generations -- into society as full rather than naturalized citizens. The latter are prohibited from owning immovable property, running for office, working for the government, or studying medicine or engineering.
The hardest yet most crucial task will be changing hearts and minds across the country. Anti-Rohingya prejudice unites virtually the entire majority Buddhist population and all political parties. At the least, the instigators of the 2012 riots and subsequent attacks should face trial so that the Rohingya can see that the law protects them, too.
True reconciliation will require years. In the meantime, authorities must at least clamp down harder on hate speech and stop distorting or obscuring the Rohingyas' generations-long roots in the country. If Myanmar's neighbors have a duty to care for refugees fleeing its shores, it is Myanmar's obligation to give the Rohingya reasons to stay.
To contact the senior editor responsible for Bloomberg View's editorials: David Shipley at davidshipley@bloomberg.net.