Farewell, Don Draper
Has there ever been a better TV drama than 'Mad Men'?
by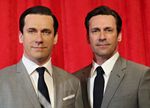 I'm going to miss "Mad Men." The long-running AMC drama, which airs its final episode this weekend, gathered a fiercely loyal fan base, of which I am happy to have been a part. The show's unsurpassed examination of the mores of the 1950s and '60s was often imitated (think ABC's disastrous "Pan Am"), but never equaled. Creator Matthew Weiner's relentless attention to the minutiae of the period was often a joy to behold all by itself. But his true triumph was the ability to weave the copiously researched details of cars, hair, clothes, music, even books and magazines into an intricate and compelling narrative.