Vanguard's Funds Might Get Even Cheaper
by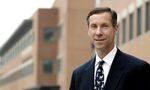 Bill McNabb, chief executive officer and chairman of Vanguard Group, has a message for the fund industry: 
"We are not done on the cost side," he said in an interview earlier this week as part of the Masters in Business series. "We think we need to keep raising the bar on that."
He's in a position to say that because of who he serves: The clients who own Vanguard by virtue of their fund investments, not shareholders. 
Vanguard, a pioneer in the business of index funds, now has about $3.1 trillion in assets under management. Its mutual ownership structure gives it a 30 percent to 40 percent cost advantage, McNabb said, a phenomenon known as "the Vanguard effect." These cost savings, in turn, are passed on to fund investors in the form of lower fees.
Since McNabb took over in 2008, assets under management have almost tripled as the investing public has caught on to the futility of chasing above-market returns -- which almost always lead to below-market returns. Unlike some funds that run into trouble maintaining returns as assets increase, this hasn't been an issue for Vanguard. To the contrary, McNabb said he plans to use the firm's economies of scale to push down fees, a direct challenge to the industry competition.
Although Vanguard is known mostly for its index funds, it also oversees about $1 trillion in actively managed portfolios.  Fund managers, McNabb said, must have a simple and coherent investing process backed up by an intense "portfolio attribution analysis." Consistency between the explanation of the investing process and the results is the key, he said. 
McNabb, who joined Vanguard Group in 1986 is, just the third chief after Jack Brennan and John Bogle, Vanguard's founder.  He assumed the top spot two weeks before Lehman Brothers and American International Group imploded. During the financial crisis, his biggest concerns were calming panicky investors and a nervous staff. To prevent fund holders from doing something they might later regret, the firm posted a webcast explaining why panicking during market turmoil was a bad idea. It was downloaded 100,000 times in the first 24 hours. 
The other concern was the message to employees. Wall Street was about to emabrk on a series of huge job cuts, which understandably rattled many employees. McNabb announced a no-layoff policy, telling employers to stop worrying about job security and focus on helping the clients. Since the crisis ended, Vanguard has added about 2,000 employees. 
The interview will be broadcast this weekend on Bloomberg radio. Listen to the full podcast on SoundCloud. Earlier podcasts can be found on iTunes and at Bloomberg.com.
This column does not necessarily reflect the opinion of Bloomberg View's editorial board or Bloomberg LP, its owners and investors.