view
Roger Goodell Won Deflategate
The commissioner turned craven waffling into the appearance of leadership.
by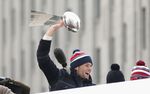 Since Tom Brady's four-game suspension for his role in Deflategate came down, opinion has been remarkably one-sided. Yes, a few people think the penalty is unduly harsh, but most fans and commentators follow Sports Illustrated's Peter King in being astonished that the NFL actually punished its golden boy and its model franchise. But don't be fooled -- almost certainly, the whole point of the exercise was to elicit that latter response. In the NFL, discipline remains a tool for crafting the image of the league and its commissioner, Roger Goodell.
I admit I was among those who didn't think Goodell would have the grit to sanction Brady, let alone Patriots owner Robert Kraft, perhaps the most powerful owner in the league and the one most entrenched in Goodell's inner circle. In addition to Brady's four-game suspension, the NFL fined the Patriots $1 million and docked them a first-round draft pick in 2016 an a fourth-round pick in 2017. 
But those taking particular glee -- I'm looking at you, New York Post -- in Goodell acting tough against the Patriots should be warned: you've been duped into feeling that way. You are confusing wild inconsistency with decisive action. That Tuesday's New York Daily News front page read, "Goodell shows some sack on Deflategate," and not "We still have no idea what Goodell is doing," is a testament to just how smoothly the NFL's PR machine can run.
Outside of New England, Brady is easy to hate, as are the Patriots: perennially successful, occasionally underhanded, forever unapologetic. Meanwhile, New England sports fans are quite adept at upholding a victim mentality that was cultivated over 86 years of disappointment, no matter that they have been enjoyed success like no others over last 15 years. With the Deflategate punishment, Patriots fans can continue to call out the haters as being jealous and reveling in some ill-earned schadenfreude. Those who root against the Patriots can rejoice that the bad guys didn't get away with it this time -- giving the credit for that outcome to Goodell.
But put aside the schadenfreude and righteousness and idea that the Patriots finally got what was coming to them, and what you're left with is a punishment that just doesn't make very much sense. Any post-Ray-Rice penalty is going to be compared to the two games the then-Ravens running back received for knocking his girlfriend unconscious, a crime that's apparently only half as bad as letting the air out of some footballs.
And for all the league's hemming and hawing about "precedent" to try to justify Rice's punishment, there really isn't a lot of precedent for the NFL taking ball-tampering seriously. It's widely known that equipment managers around the league skirt the air pressure requirements to fit their quarterback's liking; in fact, a 2006 rule change championed by Brady and Peyton Manning is the whole reason each offense gets to provide its own balls. If the NFL actually thought this issue was significant, balls would be handled solely by officials and remain in their custody before games. But the public didn't care about ball pressure until 2015, so neither did the NFL.
Moreover, while I'd certainly prefer if owners such as Kraft had less influence over the league office, the Wells report found no evidence that the tampering operation went any higher than Brady, specifically absolving Kraft and head coach Bill Belichick. The organization's only offense was failure to cooperate with investigators: The Patriots refused to allow one equipment staffer to speak with Wells's crew a fifth time, after allowing the first four interviews. If you think that's worth six figures and two draft picks, well, you might have a place in Goodell's inner circle, too.
I suspect you'll find nothing but smiles the league's Park Avenue headquarters this week. Dragging his feet on the Deflategate ruling, doing nothing after AFC championship game, actually allowed Goodell to double-dip in its benefits. The Patriots got to bring their dual hero/villain roles and all the storylines of history and legacy into the Super Bowl, which makes for good TV and great ratings. And today, Goodell looks like the "tough on crime" commissioner and not a guy making it up as he goes along to strike a balance between appeasing the public and the 31 owners who sign his paycheck. Sacrificing Kraft might give the impression that Goodell isn't in any one owner's pocket, but it really signals that he's in the pocket of the 30 others. 
Even New Englanders understandably upset with the league's haphazard discipline are in their own way inadvertently aiding Goodell's image. Their insistence that the commissioner "loses credibility" because of the Deflategate punishment serves the league in two ways: to highlight what seems like Goodell's stoic leadership against the whiny sour grapes of his detractors; and to obscure that what actually stripped Goodell of his credibility was his failure to take violence against women seriously. 
The total success of Goodell's image strategy in Deflategate can be summed up in one clean fact: A $1 million fine will do nothing to the Patriots' bottom line. As the Boston Globe notes, a cheating scandal didn't deter the Super Bowl from being the most-watched television program of all time, and broadcasters anticipate a huge bump in ratings for the game in which Brady returns from his suspension. Meanwhile, Patriots fans are putting their money where their victimhood is: the sale of Tom Brady jerseys has more than doubled since he was suspended.
We already know the Patriots in the Super Bowl is good for business. Turns out, the Patriots getting punished after winning the Super Bowl is even better.
To contact the author on this story:
Kavitha A. Davidson at kdavidson19@bloomberg.net
To contact the editor on this story:
Tobin Harshaw at tharshaw@bloomberg.net
Before it's here, it's on the Bloomberg Terminal.
LEARN MORE