Obamacare's Unpopularity Can't Kill It
Democrats, stop worrying and revel in the law's success.
by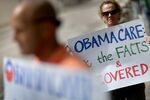 Politicians -- Republicans as well as Democrats -- can learn a lot from the short history of health-care reform. The lesson is: Get the policy right and improve the world. But don't expect it to help your party.