view
Latin America Is Failing Its Women
Abortion bans force many children to have children.
by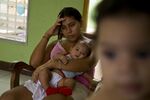 Landlocked and poor, Paraguay rarely drives the news cycle, but the plight of a 10-year-old girl who was denied an abortion after being raped has caught the world's attention.
Scores of human rights groups have spoken up, though it's hard to say which of the many horrors of this case was worst: That the accused is the girl's stepfather, that Latin machismo still shrugs at sex crimes or that a dysfunctional state failed to protect a girl from rape but obliges a pregnant child to have a child.
And it's not just Paraguay. Domestic violence, religiously motivated legislation and a culture of impunity: When it comes to safeguarding women and especially girls, Latin American governments appear to be in a race to the bottom.
Nicaragua has pioneered a law to protect women and children, but enforcement is lax. Forensic examiners found in 2013 that half the victims of sexual abuse in the country were girls under age 13.
After the rape and murder last year of a 4-year-old in the Bolivian town of Palos Blancos, national ombudsman Rolando Villena published a startling report: 34 percent of girls suffered sexual abuse before the age of 18, he found.
Pregnancy at a very young age is epidemic. Child mothers -- half of them under  14 -- delivered 27 percent of Nicaragua's live births in 2013, and a recent study in Colombia showed that one in five teenage girls are or had been pregnant.
One epidemic leads to another: Colombia logs a staggering 450,000 illegal abortions a year, many of them performed by hacks in bootleg clinics.
 Having a baby may not be safer. Latin American girls under age 16 are four times more likely to die from illness during pregnancy or in child birth according to the World Health Organization.
One problem is that the enemy often is the man of the house. A 2011 survey in Peru showed that 2.8 percent of women aged 15 to 49 reported being raped by their partners in the last 12 months.
Both traditional Roman Catholic and emerging evangelical Protestant leaders condemn rape as strongly as they champion the unborn child. And yet while their "pro-life" zeal has made Latin America home to some of the strictest rules against abortion, this is little solace to the victims of sex crimes who are bound to carry their forced pregnancy to term.
Six Latin nations -- Chile, Dominican Republic, El Salvador, Honduras, Nicaragua and Peru -- still allow no quarter even for rape victims. In 2011, the Nicaraguan government took custody of a 12-year-old rape victim to make sure she carried her pregnancy to term.
In El Salvador, 17 women, famously, were sent to jail between 1999 and 2011 for miscarriages and charged with "aggravated homicide."
Though some countries  -- honors to Uruguay -- have recently relaxed their anti-abortion laws, the path to reform has been fraught.
In 2009, when a 9-year-old Brazilian rape victim carrying twins and facing dire health risks underwent a legal abortion, the regional archbishop publicly condemned the girl's mother and her physicians. "The good aim of saving her life does not justify the killing of two other lives," Jose Cardoso Sobrinho, archbishop of Olinda and Recife, said.
Chilean President Michelle Bachelet, a pediatrician, is pushing for change but has clashed with conservative lawmakers, who have maneuvered 12 times since 1991 to maintain the country's total ban on abortions.
This is the land where her predecessor, Sebastian Pinera, lavishly praised a "brave and mature" 11-year-old rape victim who had declared on national television she was glad to have her baby.
Paraguayan authorities finally arrested the fugitive stepfather accused of rape last week, but only after the global media frenzy and the girl's mother making repeated complaints of his sexual aggression.
The police's job is far from done. A national survey this week reported at least 80 more pregnant girls aged 10 to 17 in the country, and the Paraguayan health ministry confirmed that 42 Paraguayan teenagers died in 2013 during abortions or because of complications from pregnancy.
As broadminded and socially bold as Pope Francis has been, no one expects Rome to budge on abortion or birth control. But it will be interesting to hear what the first Latin American pope has to say when he touches down in Asuncion in July.
To contact the author on this story:
Mac Margolis at mmargolis14@bloomberg.net
To contact the editor on this story:
Philip Gray at philipgray@bloomberg.net
Before it's here, it's on the Bloomberg Terminal.
LEARN MORE