Hillary Won't Talk. Voters Don't Care.
by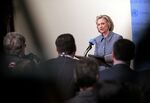 In case you haven't heard, Hillary Clinton has been ducking the press since she officially announced her candidacy a month ago. Republicans and reporters are bashing her for it.
She deserves the criticism. Candidates for the presidency should take questions -- and not just from hand-picked audiences. But why should she? 
While Republicans are in a heated nomination battle and are looking for any attention they can get (all the better for attracting resources to help them in the 2016 primaries and caucuses), Clinton has her party's nomination locked up. From now through the national conventions next summer, the voters she'll eventually want to target aren't paying attention.  
At some point, disrespecting the media could become a problem for Clinton if it turns reporters against her enough to affect their coverage of her in fall 2016. But she'll have months to fix that, and can do it in the first few months of 2016, when she'll go through the motions of contesting (and winning) primaries and caucuses. If she's reasonably accessible then, the reporters annoyed with her now will forget about how she acted in 2015.
Asking the candidates direct questions isn't the only way reporters do their jobs; see, for example, an excellent HuffPost article today from Sam Stein and Amanda Terkel describing Clinton's positions and record on liberal priorities. As NBC's Perry Bacon Jr. notes, "great stories can be done without access." Most of what reporters get from talking to candidates is spin anyway, and any competent politician can "answer" questions without discussing what she doesn't want to talk about.
Why isn't Clinton talking now (other than "because she can"? It could be pique over the coverage of her State Department e-mails and the Clinton Foundation. Or maybe her analytics team has decided that building (or rebuilding) relationships with reporters doesn't have much of a payoff on Election Day. Either way, it's a reminder that politicians and reporters talk to each other out of self-interest -- and when their incentives change, the rest of us are denied the benefits of that bargain. 
This column does not necessarily reflect the opinion of Bloomberg View's editorial board or Bloomberg LP, its owners and investors.