The Antibiotic Arms Race
Bacteria will win unless we nudge drug companies on R&D.
by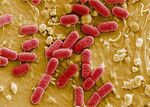 Antibiotics are probably the most important medical advance of the 20th century. Medical professionals at the time chronicled the transformation: You had patients who were choking to death with pneumonia or wasting away with tuberculosis, and then suddenly, a few days later, they were cured. If you're a fan of the James Herriot books about working as a veterinarian in 1930s Yorkshire, you'll already have a sense of what I mean. This scientific advancement, in practice, looked like magic.