The Risk of Crying 'Sexism'
If critics think Obama is sexist, they need better evidence.
by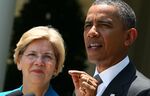 Elizabeth Warren and President Obama are having a bit of a tiff over the Trans-Pacific Partnership. Senator Warren objected to giving the president fast-track authority to negotiate the deal (which would force Congress to approve it on an up-or-down vote, with no amendments). She helped torpedo that possibility. President Obama criticized her, and then some of Warren's supporters said his criticism was sexist.