The Gamble That Could Save Democracy
Why is it illegal to bet on elections in the U.S.?
by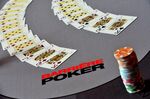 I wrote a few weeks ago about why paying people to vote is more attractive than a legal mandate as a way of increasing turnout. Recent news stories about how Hillary Clinton is the heavy betting favorite in Europe to win the presidency in 2016 raises another question: Why isn't gambling on elections allowed in the U.S.? After all, with money riding on the outcome, a lot more people would surely go to the polls.