'Father of Euro' Knew It Was a Problem Child
A warning that European monetary union wouldn't succeed without fiscal integration.
by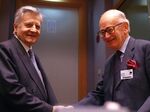 The obituaries of Baron Alexandre Lamfalussy, the cosmopolitan banker who died May 9, describe him as the "father of the euro." He led a rather charmed life, fleeing Communist-controlled Hungary as a young man, settling in Belgium, and ultimately becoming general manager of the Bank of International Settlements. A brilliant economist, he was the first president of the European Monetary Institute, the forerunner of the European Central Bank.