Greece's Payment Plan Is a Shell Game
Athens just wrote itself a check to cover its debts.
by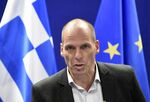 "I love deadlines; I like the whooshing sound they make as they go by," wrote Douglas Adams, author of the "Hitchhikers Guide to the Galaxy." He'd have found plenty to admire in Athens in the past few months, where the whooshing has become deafening. Greece's international creditors are probably less pleased by the sound -- although judging from the desperate method the country used to meet today's debt payment there may not be many deadlines left to miss.