Greece Inches Closer to an Accident
The probability of failure is now around 50 percent.
by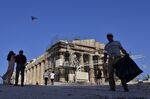 An immediate crisis has been averted once again in the Greek drama. At least that is how most media outlets will interpret Greece's approval of  a scheduled 750 million euros ($836 million) debt payment to the International Monetary Fund this week. The decision was made as euro group finance ministers expressed some satisfaction at the greater seriousness shown by the Greek government and urged it to do more, and quickly.