Gaming the Ukraine Crisis
The outcome is clear. Everybody should move on.
by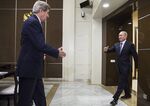 If Russia is intractable on Ukraine and considers the West an adversary in most other areas of global policy, why has U.S. Secretary of State John Kerry come to Sochi to meet with President Vladimir Putin for the first time since Russia invaded Crimea? Most likely, this isn't even a baby step toward a normalization of the Russia-U.S. relationship, but just a sign that the two countries' strategic interaction is close to what game theory calls the ultimate outcome.