Australia's New Tax Plan Misses the Mark
Mining companies shouldn't be let off the hook.
by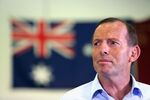 Prime Minister Tony Abbott has found a new way to plug Australia's budget hole: targeting multinationals. A so-called anti-avoidance law, which his government rolled out in its latest budget, aims to stop multinational corporations from diverting the profits they earn in Australia to low-tax jurisdictions.