Sorry, but Lawyers Aren't Going Away
But the boom years may never return.
by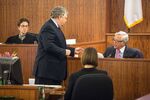 During and after the financial crisis, the law business hit a wall, with the number of legal-services jobs falling by about 70,000 from 2007 to 2009. Since then, it's been going sideways. April's preliminary estimate of 1.12 million jobs in legal services was the highest in more than a year, but doesn't seem to be enough to declare a positive trend.

The numbers in this chart come from the monthly establishment-survey data that the Bureau of Labor Statistics updated on Friday. Attention tends to focus on the headline number -- 223,000 jobs gained in April -- but I like to dig into the numbers on specific industries as a way to see how the economy is changing. Past installments in this series have focused on manufacturing-worker earnings, changing fortunes in finance, consulting and food, and the fastest-growing industries. 
It isn't really a surprise that the past few years haven't been great for lawyers. This new employment reality has been having a dramatic effect on law school enrollment -- so dramatic that one might get the impression that legal profession as a whole is imploding. And yeah, the above chart might give that impression too, given that I truncated the y-axis in order to give a closer view of the changes in employment. Here's how it looks with a y-axis that goes to zero and a couple of other industries included for context:

Compared with consulting, which has been and still is booming, the law looks unpromising. Compared with publishing, which is being disrupted by new digital ways of doing things, it looks pretty stable. It's a mature industry, one in which rewards are becoming increasingly concentrated. As the Wall Street Journal reported last month:
A field of around 15 to 20 law firms dominates the law market, industry observers say. Most are corporate heavyweights that benefited from the boom in mergers-and-acquisitions work last year, including Davis Polk & Wardwell LLP, Kirkland & Ellis LLP, Skadden, Arps, Slate, Meagher & Flom LLP and Sullivan & Cromwell LLP.

At the 15 most-profitable firms, revenue increased 6.6% on average, according to data collected by Citi Private Bank's Law Firm Group. That compares with a 4% increase across 170 other law firms surveyed by Citi.
A 4 percent increase is still an increase, though, and average hourly earnings in legal services (this includes everybody, not just the lawyers) are rising again after a couple of years in the doldrums:

In short, nobody seems to be disrupting the legal profession out of existence, at least not yet. Yes, many things about the current law-firm model seem unsustainable. Startups such as Axiom Law, are trying to change the structure of the business and there will surely be others trying to establish themselves as Uber, but for lawyers, but these won't necessarily reduce employment in the field. Shifting legal jobs in-house does affect the legal services job numbers, and may be a factor in the sector's anemic performance, but it still means jobs for lawyers.
Stagnant legal employment in a growing economy could be a sign that the industry got too big and is now being consolidated. Compared with, say, the late 1990s, this is definitely a tougher time to be a lawyer. I'm going to make a big, bold prediction, though: lawyers aren't going away. 
This column does not necessarily reflect the opinion of Bloomberg View's editorial board or Bloomberg LP, its owners and investors.