Nobody Wants to Be a Politician Now
Polarization and scandals turn off young people.
by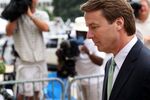 Young people are disaffected with the political process and lack any interest in running for office, a new book by Jennifer Lawless of American University and Richard Fox of Loyola Marymount University demonstrates. Yet the book itself perhaps unintentionally underscores one of the key reasons why: We know too much about our politicians.