Democrats Eased Way for GOP Mega-Donors
Senate Democrats voted to ease restrictions on contributions to the parties. The GOP is laughing all the way to the bank.
by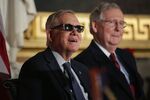 More than half of Senate Democrats voted with Republicans in December to increase fundraising limits for the political parties. The change was tucked in the 1,599th page of a 1,603-page budget deal. Given how aggressively Republicans are taking advantage of the new rules, and how little they seem to be benefiting Democrats, Senate Democratic leader Harry Reid may regret his support.