Markets and Pollsters Both Failed in the U.K.
It's an illusion that markets can predict political outcomes better than polls when the raw data are faulty.
by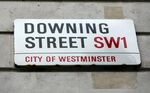 The debate on whether betting more accurately predicts election results than polls do has been going on for years, with those who favor bookies over pollsters amassing lots of convincing evidence. Yet the bookmakers failed just as badly as the sociologists at forecasting the U.K. election outcome.