Beware India's E-Commerce Bubble
The sector isn't the sure bet many seem to think.
by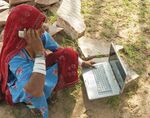 One sector in India's economy seems immune to worries about the country's uncertain policy environment: e-commerce. Even India's exuberant stock markets, which enjoyed spectacular rises in the aftermath of Prime Minister Narendra Modi's landslide victory last year, have spent the last two months self-correcting. The benchmark Sensex at the Bombay Stock Exchange has seen a 10 percent decline in value in the last 60 days as the reality of a still-sputtering economy and start-and-stop reform has registered with investors.