Friday Food Post: Toddlers and Other Challenges
Quick and simple cooking? I recommend you cheat.
by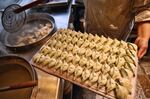 Today's food column will be crowd-sourced from Twitter. That is to say, I periodically broadcast my thoughts on food to all y'all, but I like to think of this space as a conversation. So I asked my Twitter followers for questions, and they asked me for answers.