Maybe Investors Aren't So Relaxed About U.K. Election
The eerie calm in U.K. markets might be a pre-election mirage.
by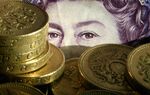 One of the oddest features of this most fractious of U.K. elections has been the apparently blase attitude of investors, who are typically allergic to uncertainty. Now a weird data revision from the Bank of England suggests the somewhat eerie calm in U.K. markets might not persist if the outcome of today's voting matches opinion polls by producing no clear winner.
QuickTake Britain's Multiparty Politics
On May 1, the central bank said foreign buyers had purchased a record amount of U.K. government bonds in March, investing 28.2 billion pounds ($43 billion) in gilts. Late yesterday, it said a "clerical error" had almost doubled the true figure, which was just 14.8 billion pounds.
Chatting to investors and traders in recent weeks, the persistent view has been that money would eventually start fleeing to the sidelines as the U.K. election approached. That hasn't happened and commentators, myself included, seized upon the gilt data as evidence of investor indifference to the election outcome. March's purchases were still healthy at half their initial reported volumes, but they weren't a record, so you have to wonder whether confirmation bias and self-reinforcement have played a part in buoying U.K. markets.
The pound, typically the best barometer of what the world of money thinks about the outlook for Britain, is trading at about $1.52, within a whisker of its average value in the past six months:

The gap between what the U.K. pays for 10-year money and what Germany, Europe's benchmark borrower, gets charged is also bang in line with its six-month average. The 10-year gilt yields about 2 percent, about 1.3 points more than the German bund:

Opinion polls still suggest that Labour and the Conservatives are neck-and-neck as voters head to the ballot boxes today. Barring a surprise, Britain will wake up tomorrow with no settled government in power. Only then will we find out whether investors really are sanguine about owning U.K. bonds and the British currency, when no party has a clear mandate to rule.
This column does not necessarily reflect the opinion of Bloomberg View's editorial board or Bloomberg LP, its owners and investors.