Malaysian Trafficking May Doom Pacific Trade Deal
State Department's human-rights report becomes an obstacle.
by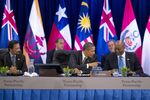 President Barack Obama's effort to build the largest trade alliance in the Pacific faces a roadblock in the Senate, where a bill to give the White House "fast track" authority  in trade negotiations is hung up over Malaysia' dismal record on human trafficking.  On Wednesday, the road to the Trans Pacific Partnership got even rockier, thanks to Democratic Senator Robert Menendez.
The president and Senate Republicans find themselves on the same side here, pushing for a trade promotion authority measure that would force Congress to take an up-or-down vote on trade pacts -- including Obama's TPP -- without adding any amendments.  The Pacific trade pact, which is still being negotiated, is a vital to Obama's legacy and potentially the keystone of the administration's oft-criticized rebalance to Asia.
Menendez last month added an amendment to the fast-track measure that would ban that trade status to any country that the State Department classifies as a Tier 3 (the worst level) violator on human trafficking. Malaysia, which aspires to be part of TPP, is Tier 3. And Mendendez heightened that pressure this week in a Senate Foreign Relations Committee hearing, where he openly questioned whether the White House was putting inappropriate pressure on the State Department to move Malaysia to the less-odious Tier 2.
Menendez pressed State Department officials at the hearing to confirm the integrity of its next annual human trafficking report, which is due next month, just as the TPA legislation fight will reach its pinnacle. "All of us who share a deep concern about the scourge of human trafficking depend on the integrity of that report for the truth," Menendez said.
Virginia Bennett, the principal deputy assistant secretary of state for human rights and labor, responded with a non-denial denial, saying she wasn't aware of political pressure but that she couldn't rule it out because she was not directly involved in the report. 
I talked to Menendez after the hearing, and he reiterated his concerns:   "I hear rumors that the administration is pressuring the State Department to look at its [human trafficking] report and specifically as it relates to Malaysia."  
Taking a country off the Tier 3 list that doesn't deserve it, he said, would undermine the global effort to combat the trade in humans. "I'm happy if Malaysia works hard to get itself off," he said. "But they've got to earn it. It can't be because someone has some other interest such as trade."
"We are not aware of any political pressure on Malaysia's tier ranking on the Trafficking in Persons Report as a result of the Menendez amendment or otherwise," State Department spokesman Jeff Radke, told me after the hearing. "The State Department is aware of the Menendez amendment that precludes fast-track authority for Tier 3 countries.  We are following this amendment closely as it is under discussion as the House and Senate work out a final bill."
Senate GOP leadership wants to bring the fast-track bill to the floor next week. Top Senate Republicans told me that it was up to the White House to fix any problems caused by Menendez's amendment.  "A lot depends on the president and how he handles it," Senate Finance Committee Chairman Orrin Hatch told me Tuesday.  "It's his side that caused it."
Hatch said that the fast-track authority could pave the way for as many as 43 separate trade deals, and thus the debate has to take into account many considerations. Malaysia should be given fast-track status and included in TPP, he said, and the human trafficking issue should be worked on separately.
"This is a test for the president and the president's clout, not with Republicans, with Democrats. So they are going to have to produce the votes," added Senate Majority Whip John Cornyn. "I hope the president will roll up his sleeves and go out and be persuasive with members of his own party."
There are ways the Republicans could to get rid of the trafficking issue. The amendment could be stripped from the bill on the floor. But majority party is wary of doing that because Menendez is promising to call them out for looking the other way about Malaysia's human-rights shortfalls.
"I'm sure they could try to strip it out. But of course, that takes votes," Menendez told me. "They are going to have be on the record doing so."
Menendez himself is hardly a knee-jerk opponent of trade liberalization -- he voted for deals with Chile and Peru -- but holds strong views on human rights. (He is also under indictment by the Justice Department for allegedly  giving illegal help to a donor with a visa problem.)   
If the State Department does take Malaysia out of Tier 3 status in the next human trafficking report, it will be hard-pressed to make the case that decision is based on merit. Last year, when Malaysia was downgraded from Tier 2, the department said the country was rife with systematic exploitation of foreign workers through abusive work conditions, de facto indentured servitude, and rampant sex trafficking.
In fact, Malaysia's downgrade to Tier 3 should have come two years earlier, but the State Department granted it waivers in 2012 and 2013. The Malaysian government promised to address the problem in those two years, but did not, the department found. Last year, the Malaysians actually decreased their anti-trafficking  enforcement efforts. U.S. Ambassador to Malaysia Joe Yun said publicly just last month that the Malaysian government had to do more if it wanted to lose its Tier 3 status.
Obama administration officials often argue that a smart foreign policy is achieved when the government properly balances American interests and American values. One argument holds that huge trade deals can pull nations such as Malaysia out of poverty and could benefit workers there immensely, so shouldn't be held up by isolated human rights issues.
But the record shows that after countries enter free trade deals with the U.S., their records on human trafficking often get worse, not better. The time to press countries such as Malaysia on labor issues is now, while the U.S. has the leverage of the TPP. In doing so, Menendez may just force Obama to reconcile his desire for a free-trade legacy with the plight of those whom economic liberalization has left behind.
This column does not necessarily reflect the opinion of Bloomberg View's editorial board or Bloomberg LP, its owners and investors.
To contact the author on this story:
Josh Rogin at joshrogin@bloomberg.net
To contact the editor on this story:
Tobin Harshaw at tharshaw@bloomberg.net
Before it's here, it's on the Bloomberg Terminal.
LEARN MORE