Editorial Board
Can Britain Learn to Love Compromise?
Britain's political culture still thrives on conflict, but it will have to stop.
by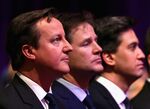 A clear result is the last thing voters expect from Thursday's election in the U.K. Polls say that neither of the two main parties will win a majority in the House of Commons. Days and maybe weeks of talks could follow, to see what kind of governing partnership can be cobbled together. Another election in short order is possible.