Rodents Could Predict the Next Big Quake
Research shows animals know more than humans about earthquakes.
by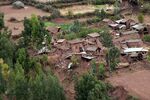 The 10 biggest earthquakes recorded since 1900 have taken more than 1.5 million lives -- not counting the toll from the 7.8 magnitude temblor in Nepal, which has killed 7,500 and counting. There's some hope that the big quakes of the future could be less lethal -- because we'll see them coming. Or at least, the rats will.