How Much Smaller Can Britain Get?
The case for a less ambitious foreign policy guided by enlightened self-interest.
by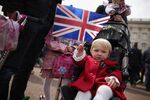 Britain's sense of purpose in the world is trending downward. Indisputably, tomorrow's election marks a new low in national ambition, and it's likely to be followed by a further, perhaps accelerating, decline. British voters seem to think the country's global standing no longer matters. The truth is, they're right.