Clinton Taunts Republicans on Immigration
She is aggressively wooing groups for her coalition. The bidding begins.
by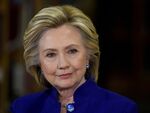 To measure the effects of Hillary Clinton's immigration call-out, listen to the response.
In Nevada on Tuesday, Clinton wrapped 11 million undocumented immigrants in a warm embrace, supporting a path to full citizenship and declaring that she would "go even further" than President Barack Obama in issuing immigrant-friendly executive actions if Congress didn't cooperate.
Since immigration reform imploded last year in the House of Representatives, longtime immigration activist Frank Sharry has issued one blistering statement after another about political sellouts and nativist cranks. Tuesday, Sharry issued a written statement on Clinton's remarks beginning with the word "Wow." He told the Wall Street Journal, "I'm over the moon."
Martin O'Malley, the former governor of Maryland who has been nipping around the edges of Queen Hillary's long train, was lauded by his spokeswoman for being ahead of "leaders in the Democratic and Republican Parties" -- you can read that as "Clinton." The spokeswoman said that when others supported sending unaccompanied children back home to grave peril in Central America, O'Malley took a stand against that.
So the bidding is open on the left, with shares of immigrant rights soaring in early morning trading. What about on the right?
"Obviously she's pretty good at pandering and flipping and flopping and doing and saying anything she needs to say," Republican National Committee Chairman Reince Priebus said at an event with Hispanic Republicans in Denver.
"Clinton's record on immigration is not so clear-cut," said Jeff Bechdel, a spokesman for America Rising, a Republican super-PAC. "She's proven time and again that she is willing to say or do anything to win an election, this time with the Hispanic community and immigrant families," he said.
These statements seem to be missing the flavor of recent Republican history on this issue. Like references to Obama-style lawless tyranny in the form of executive action on immigration. Or the demand that the U.S. "secure the border" before attempting to deal with undocumented immigrants. Or the need for those same undocumented immigrants to go home and get to the back of the immigration line because that's only fair.
In effect, the Priebus wing of the Republican Party, which is the faction that wants to win the White House rather than merely hunker down and obstruct Democratic presidents from the other end of Pennsylvania Avenue, is accusing Clinton not of being a pied piper to an invading swarm, but of being an insufficiently reliable ally to undocumented immigrants.
Meanwhile, Republicans in the House of Representatives have repeatedly voted to deny relief of any kind to undocumented immigrants and even to rescind the relief -- such as deferred action for immigrants brought to the U.S. as children -- that Obama has already extended.
Clinton clearly wants to expand the chasm between Republican factions as she stakes her claim on Hispanic votes.
Her remarks in Nevada, following her remarks on race and policing at Columbia University last week, leave little to the political imagination. The coalition she intends to assemble for November 2016 is Obama's -- blacks and Hispanics and Asians and white liberals and moderates. (If she can recruit some additional white women to the multiracial mix -- and she probably can -- all the better.)
Clinton is daring Republicans, including Jeb Bush, the most forthright in support of immigrant rights, to compete with her. "Not a single Republican candidate, announced or potential, is clearly and consistently supporting a path to citizenship," Clinton said. "Not one. When they talk about legal status, that's code for second-class status." 
Widening the partisan divide on immigration, Clinton hopes to raise the political costs for a Republican candidate, making it that much more difficult for Bush or Marco Rubio to be a champion of immigrants in a general election. Bush has been brave on the issue so far. Clinton, facing no anti-immigrant pressure within her own party, is going to push him to be braver still -- or retreat in defeat. 
This column does not necessarily reflect the opinion of Bloomberg View's editorial board or Bloomberg LP, its owners and investors.
To contact the author on this story:
Francis Wilkinson at fwilkinson1@bloomberg.net
To contact the editor on this story:
Philip Gray at philipgray@bloomberg.net
Before it's here, it's on the Bloomberg Terminal.
LEARN MORE