Changing Course, Nokia Needs a Map
Apps like Here have a future in social media and self-driving cars.
by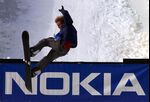 Nokia's mapping business, called Here, looked like a dud for years. But now that it's for sale, buyers are lining up from the U.S., Germany and China, and the geography of its ownership has even acquired political significance. Nokia should consider hanging on to the unit, a decision I would welcome as a user.