Why the GOP's 2016 Race Is Mobbed
It could be a fluke, or the money, or the idea of beating Hillary.
by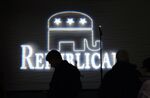 Yes, the field of Republican presidential candidates looks cartoonishly huge. I counted 19 possible candidates back in January. Since then, only Mitt Romney has dropped out, while a few whom I thought were improbable or uninterested are, at least for now, acting as if they are candidates.