Let Scottish Nationalists Into U.K. Government
Blacklisting political parties isn't democratic.
by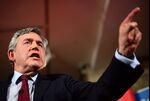 Gordon Brown, the former U.K. prime minister from Kirkaldy in Scotland, is pacing a small hall in central Glasgow, working up a sweat as he delivers the kind of barnstorming speech that helped turn Scotland's independence referendum in favor of the union last year. It's clear the Labour Party activists in the room are hoping -- beyond hope -- that he can pull it off again for Thursday's U.K. election. It seems very unlikely he can.
That's because this election north of the border is in many ways a rerun of last year's independence vote, only now Labour is being punished for Brown's success a year ago. Worse, Brown may unwittingly be undoing the work he did in saving the union. Indeed, it isn't impossible that the next prime minister to enter Downing Street will be the last to govern a U.K. that includes Scotland, as a direct result of the tactics used by both Labour and the Conservatives to secure an election win.
QuickTake Britain's Multiparty Politics
The air of desperation among the Labour activists who came to hear Brown and the party head for Scotland Jim Murphy speak on Tuesday was palpable. The previous day, Murphy had to abandon a rally in Glasgow's central square, when he and the Labour-supporting comedian Eddie Izzard were shouted down and jostled by Scottish nationalists. Murphy is even trailing the SNP in his own constituency and may not get reelected.
Labour faces a wipeout in Scotland on a scale that even locals find hard to explain. From 41 seats in 2010, opinion polls suggest party may end up with 12 or fewer. The Liberal Democrats, who had 11, may disappear. The SNP, which had just 6 seats after 2010, may get as many as 50, conceivably even all 59 in Scotland, making them the third-largest party in Westminster. That's enough, potentially, to cost Labour a majority and enable the SNP to decide which party rules Britain for the next five years.
"The only way to get a Labour government is to vote for a Labour candidate," Brown thunders. He goes on to warn against the dangers of having a party that's committed to Scottish secession hold the balance of power at Westminster. "This election isn't just about whither the U.K., it's about whether the U.K. exists at all," he says.
Brown is right, but for the wrong reason. His argument is that if the SNP takes seats from Labour, Labour may lose to the Conservatives. And even if the Tories can't then find enough partners to form a government, Labour won't be able to make a deal with the SNP; so toxic to the English is the idea of having a Labour government reliant on Scottish nationalists that Labour leader Ed Miliband has ruled out any formal deal. The Tories, meanwhile, are playing on that fear, warning that a vote for Labour is a vote for Britain to be run by the SNP from the shadows, as a Labour government cuts informal deals to secure each piece of legislation.
The Tory strategy is clearly dangerous to the union, but so is Labour's. Brown was using the flip side of the Conservative argument to warn Scots against voting for an avowedly Scottish party, because it could never be accepted into a U.K. government.
And how better to confirm the SNP's case that the U.K.'s political system doesn't respect the decisions of Scottish voters?
"Labour saying that it won't associate with the SNP has made people really angry," says Jim McLaughlin, who owns the "Yes Bar," just around the corner from where Brown is speaking. He renamed his pub after the pro-independence movement during last year's referendum campaign. And on Tuesday, he temporarily changed the color of its logo from red (Labour) to yellow (SNP).
McLaughlin was a Labour supporter until the day after the referendum, when he -- like tens of thousands of others -- joined the SNP. He thinks Labour has got their election campaign tactics in Scotland all wrong, and I suspect he's right.
To McLaughlin and other pro-independence Scots, Labour became "Red Tories" once they joined with the Conservatives in campaigning against independence. And with only one Conservative MP in Scotland, there is no greater insult. Even the harassing of Murphy and Izzard on Monday was indicative, he thinks: "Bringing a cross-dressing English comedian to campaign for you in central Glasgow maybe isn't so wise."
The normal democratic response if the SNP wins the balance of power on Thursday would be to invite it into government, just as Prime Minster David Cameron did for the Liberal Democrats in 2010. It would be reasonable to demand that the SNP commit to not calling another independence referendum during the course of the Parliament if it wants to take part in governing the U.K., and the SNP might well decline and choose opposition. But if it is simply unacceptable to have a party that sets out to represent specifically Scottish interests in the cabinet, then Great Britain probably doesn't deserve to have a future.
The opinion polls may be wrong, of course. Maybe the SNP will only get 20 or 30 seats -- yet that would still be a four- or five-fold increase from their 2010 result. And the London-based parties' undemocratic campaign message to Scots would remain. The referendum celebration McLaughlin planned at the "Yes Bar" last year fizzled as defeat became clear, but he's already hired a bigger venue to host a party on Friday night. Because this time the SNP, and the cause of Scottish nationalism, can't lose.
This column does not necessarily reflect the opinion of Bloomberg View's editorial board or Bloomberg LP, its owners and investors.