Will the Real Modi Please Stand Up?
India's Prime Minister still hasn't made clear what he stands for.
by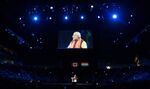 Three weeks from now, India's Prime Minister Narendra Modi will mark his first year in office. He swept into office with a clear center-right message -- "minimum government, maximum governance" -- and the biggest mandate of any leader since 1984; one might have expected him to establish a policy direction and priorities fairly quickly. Yet his administration still can't seem to make up its mind what kind of government it wants to be.