Save the World, Give Up on Nature
Some scientists think we have no other choice.
by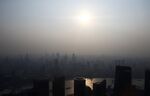 The typical approach to environmentalism involves finding ways for humans to live in harmony with nature. But what if that's wrong? What if our destiny is to leave nature behind? It's a radical idea, but it's worth a moment of reflection.