What's a Russian Propagandist Doing in Brooklyn?
He's building a platform to connect news organizations with citizen video.
by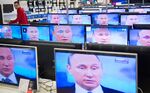 There's a start-up in New York that I'm not sure I want to see succeed, even though it's based on a sound idea. It's called Babo, and allows citizen journalists to send videos from their smartphones to news organizations and get paid for it.