Somebody Got a Good Raise. Probably Not You.
People who sell things are doing much better than people who make them.
by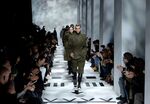 The long, slow U.S. economic recovery might finally be translating into better compensation for workers. People who make stuff or pull it out of the ground, though, aren't seeing quite the same kinds of raises as those in sales, management and finance.