Greece's Firebrand Finance Minister Deserves to Be Heard
Varoufakis's removal from Greece's debt talks makes another Band-Aid solution likely.
by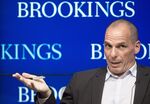 I have never met or spoken to Yanis Varoufakis, Greece's finance minister. Yet I feel I have gotten to know him through his writing and interviews, and by reading about his interactions with both the official and private sectors in Europe. That's why -- though I understand the rationale for the decision -- I was saddened last week when Prime Minister Alexis Tsipras sidelined Varoufakis from Greece's complicated and consequential negotiations with its European creditors and the International Monetary Fund.