Criticism Follows Israeli Aid to Nepal
Helping earthquake victims has nothing to do with Gaza.
by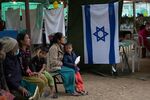 When a devastating earthquake struck Nepal on April 25, the Israel Defense Forces quickly assembled and sent one of the largest aid teams of any country. Its field hospital included 60 beds and an obstetrics department. A recent count noted that the Israeli physicians had conducted 33 surgeries, delivered five babies and were assisting in Nepalese hospitals, as well.