Editorial Board
Carly Fiorina's Best Argument
The former CEO can't pin her platform on Hillary Clinton.
by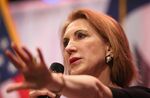 No one doubts Carly Fiorina's toughness. Fiorina, who announced her campaign Monday for the Republican nomination for president, worked her way up from the secretarial pool to become chief executive officer of Hewlett-Packard. She engineered a controversial merger with Compaq and endured a bloody power struggle at HP before being pushed out in 2005. Along the way, she battled and survived cancer -- while running for the U.S. Senate, no less -- and family tragedy.
To be a valuable political quality, however, toughness has to be tempered by judgment. And Fiorina's isn't always good.
Read more from this series:
What Is a Sanders Democrat?
Which Marco Rubio for President? 
It's a Race, Hillary. Start Running.
Why Rand Paul Matters
Ted Cruz Is No Captain Courageous
She seems, for example, to be tempted to be the Republican version of the anti-Hillary Clinton (a role recently taken in the Democratic Party by Senator Bernie Sanders). "Back to 2012, we all thought Benghazi was going to be an issue and it wasn't," she said in a recent speech. "It wasn't an issue because our nominee wouldn't throw the punch."
There are several reasons that Benghazi never materialized as the all-purpose scandal that Republicans so fervently wished for. An unwillingness among Republicans to throw punches -- wild ones included -- was not among them.
More important, pleasing hardcore partisans by targeting Clinton seems unlikely to advance either Fiorina's political prospects or the quality of public debate. Better for her to run as the former CEO she is -- someone who has witnessed the U.S. workforce interacting with the global economy in complex and subtle ways not easily captured by partisan sound bites.
"Free markets unleash human potential," Fiorina writes in a new book being released to coincide with her campaign launch. Yes, they do. The challenge is to strike the right balance: Encourage successful markets while cushioning the harsh human effects of their indifference. All without undermining that potential.
Unlike any of the current crop of candidates, Fiorina has corporate experience relevant to this debate. Now it's up to her to apply that experience.