Ukrainian Oligarch Dodges U.S. Justice
Dmytro Firtash got a Vienna judge to believe the case was politically motivated.
by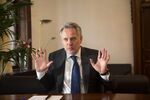 The Russian propaganda narrative about U.S. meddling in Ukraine has a hard time penetrating mainstream thinking about the Ukraine crisis: The U.S., after all, isn't sending tanks or troops to stoke a war in the country, while Russia is. Even so, a judge in Vienna has refused a U.S. request to extradite a Ukrainian oligarch on grounds that it was politically motivated.