Risky Debt and Perfect Stocks
Happy May Day! Also: synthetic P2P CDOs, tax crimes, revolving doors.
by
The great Apollo debt apology tour.
So this is a perfectly respectable position:
"Large, complex transactions involve tough negotiations and Apollo takes its fiduciary responsibility for its funds very seriously," Apollo spokesman Charles V. Zehren told The Wall Street Journal earlier this year. "As such, we will aggressively protect our investments and defend our companies using all the tools available to us, which greatly differentiates us from our peers."
So Apollo will protect its equity investments, on behalf of its funds, even if it means going to the ends of the earth to fight with its creditors. The problem is that Apollo is a repeat player, and its creditors are repeat players, and the game they are repeatedly playing is "leveraged buyout," and you can't do a leveraged buyout without leverage. So "Apollo is preparing to meet with big debt investors including mutual fund managers in several cities over the next few months to ease concerns that the firm protects its investments in troubled companies at the expense of creditors." But read that block quote. Apollo does protect its investments in troubled companies at the expense of its creditors, and it's proud of it, and it'd do it again. So what will they talk about at those meetings? Oh: "Apollo plans to say that, over time, bonds and loans backing its leveraged buyouts have delivered market-beating returns." Money cures a lot of hurt feelings.
Happy May Day.
Not in the communist way, though, sure, that too. But today is the 40th anniversary of the elimination of fixed commissions on U.S. stock exchanges, and if you think markets are rigged now, ha ha ha et cetera. Deregulation of equity markets seems, broadly, like a success, and many of the current complaints about equity market structure are really about intrusive weird regulation (Reg NMS, etc.) rather than its absence.
Speaking of market-structure complaints, here's a story about T. Rowe Price (big mutual fund, high-frequency-trading critic) teaming up with Themis Trading (brokerage, high-frequency-trading critics) and Virtu Financial (big high-frequency trader, never loses money) to directly route some T. Rowe orders to Virtu, because it turns out that maybe Virtu isn't evil, despite never losing money. This seems like a pattern: A lot of people think there are a lot of evil HFTs, but they can't quite name them. The HFTs you can think of seem harmless enough. On the other hand, here is Kipp Rogers on reserve order refill latency and the possibility of profitably anticipating order flow. 
Nice price chart.
Speaking of communism and equity market structure, I don't ... what even ... why: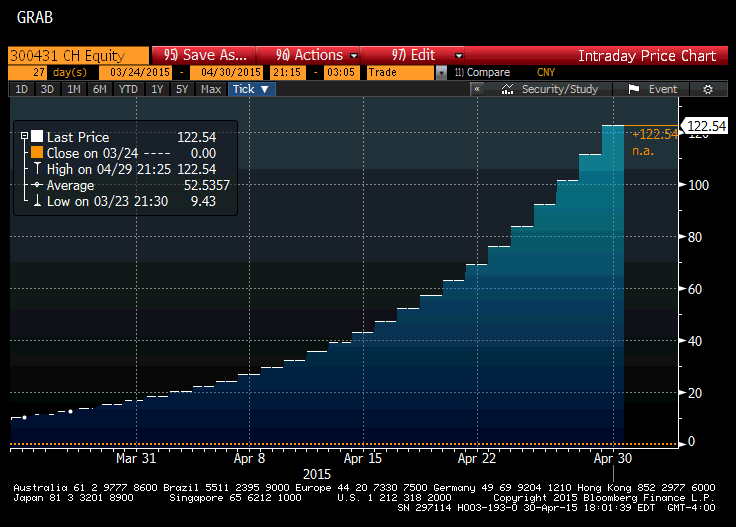 That's a stock price chart for Beijing Baofeng Technology Co. Ltd., which went public in Shenzhen in March and has been going up by the daily limit ever since. It is not alone: "Every one of the 29 IPOs in Shanghai and Shenzhen this month have risen by the daily limit each day since." Which makes them surely the worst imaginable markets for initial public offerings? I mean, great for investors, I guess, though the word "bubble" has come up. But for companies? Baofeng is up over 1,600 percent since its IPO. That IPO raised 214 million yuan at a market capitalization of 856 million yuan. The shares sold in the IPO are now worth 3.7 billion yuan. People complain about IPO pops for companies like Twitter, since they mean that Twitter "left money on the table," but Beijing Baofeng left four times its market cap on the table. And with a Twitter IPO, the initial investors are taking a risk, and the expectation of a pop is what induces them to buy an untested new stock. If every Chinese IPO is limit-up every day, what risk is the IPO pop compensating for? 
Though there is this:
Zhuhai Boyuan Investment Co., a Shanghai-listed firm that specializes in recycling industrial waste, raised the doubts from the very first words of the 2014 financial statement released Thursday:

"The company's board of directors, board of supervisors and senior management are unable to guarantee the truthfulness, accuracy and comprehensiveness of the annual report. Nor are they able to guarantee that the report doesn't contain any false records, misleading statements or significant omissions."

"The reason is: the current state of the company," Boyuan said.
Good reason!
Synthetic peer-to-peer.
"If you could create a synthetic product that mimics all the features of a P2P loan and had the same risk and yield tradeoff, there would be a lot of demand to buy that paper," oh hey super. One generic data point is that the availability of short selling tamps down bubbles: People who disagree with the bull thesis have a way to express their disagreement that keeps down the price. And one intriguing theory that I've heard about the financial crisis is that synthetic collateralized debt obligations of mortgage-backed securities helped restrain the mortgage bubble, not only because synthetic CDOs were a way to get short mortgages, but also because they were a way to get long mortgages that didn't require creating more mortgages. The bubble had fewer real-world effects than it would have if everyone who wanted to buy a packaged mortgage had to buy packages filled with actual mortgages. There are, of course, serious counter-arguments to this. In particular it didn't turn out all that great. Anyway, synthetic P2P CDOs, cool cool.
Taxes. 
What I like about this criminal case against an Internal Revenue Service revenue officer is that he is accused of committing basically every possible tax crime:
According to the indictment, Brewer operated two outside businesses contrary to IRS regulations: he prepared tax returns for others in exchange for fees, and he operated a business selling designer clothes, collectable toys, sports memorabilia, and other items through the Internet auction site "eBay." As part of a scheme to fraudulently reduce his taxable income and increase his tax refunds, Brewer failed to report any income he received for his unauthorized tax preparation business, underreported the gross receipts earned from his Internet retail business, and claimed false dependents on federal tax returns he prepared and filed on his behalf for three tax years. Brewer also engaged in a multi-year scheme in which he prepared and filed false tax returns for others. Brewer listed false dependents and false deductions on these returns, among other materially false information, in order to fraudulently cause his clients to receive a refund to which they were otherwise not entitled or fraudulently inflate their refunds. In doing so, Brewer listed the names and social security numbers of various individuals on those tax returns as dependents without those individuals' authorization. As part of this scheme, Brewer also diverted a portion of those clients' refunds to himself, in some cases without his clients' authorization or knowledge. Finally, in an effort to fraudulently obtain for himself a tax credit for first time homebuyers, Brewer lied under oath about his residency when he testified in a matter in the United States Tax Court in New York, New York.
In other tax news, the IRS won't give identity-theft victims copies of the fake tax returns filed in their names. And here is a story about how George Soros has deferred taxes by deferring and reinvesting client performance fees in his hedge fund. I mean, pretty much every hedge fund manager did that, but that particular dodge comes to an end in 2017, leaving Soros with a potential $6.7 billion tax bill.
Personnel moves.
Lazard gave Alexander Stern and Matthieu Pigasse some new titles, chief executive officer of financial advisory and head of mergers and acquisitions and sovereign advisory, respectively. Pigasse was already doing sovereign advisory work for Greece and Ukraine, and doesn't that seem like such a high-profile -- and time-consuming -- job that it's weird to give him a new one? It's not like Greece has calmed down recently and freed him up for more work elsewhere. Stern and Pigasse are sort of replacing Antonio Weiss, who left Lazard for Treasury in a cloud of why-should-Treasury-ever-hire-a-banker acrimony. I hope if there's more debt-ceiling nonsense Weiss will bring in Pigasse as an advisor. Print the premium bonds, guys!
Meanwhile in departures from government, Sarah Dahlgren, who runs bank supervision at the New York Fed, is leaving, and she is an interesting regulatory-revolving-door case. Ben Bernanke is an academic macroeconomist who had his hand on the money pump for a while, and he is valuable to private investment managers mainly for his economic knowledge and his familiarity with the shape and heft of the money pump. But Dahlgren is a regulator (whose "first job in the public sector was on Rikers Island"), and if she goes to work for a bank it will presumably be for her regulatory knowledge. Though the incentives that that creates are not as obvious as people think. Elsewhere, Dan Davies has some advice for Ben Bernanke about how not to accidentally sell Pimco out to Citadel.
Things happen.
People are worried about bond market liquidity. Did Libor rigging help Deutsche Bank avoid a bailout? A mid-size bank has a novel way to avoid a SIFI designation. Greek Default for Dummies. On Argentina: "You have defaulted bonds trading above par, which is kind of interesting." Renault shareholders and the Florange law. Dimensional Fund Advisors says: no more poison pills. The death of Twitter, from Stratechery and the Awl. Altruistic punishment. Inside The World Of Children's MMA. How much money is too much to leave your heirs? Platinum Hideaway LLC. Folksiness on fleek. Caity Weaver and Rich Juzwiak ate at Epcot. 
If you'd like to get Money Stuff in handy e-mail form, right in your inbox, please subscribe at this link. Thanks!
To contact the author on this story:
Matt Levine at mlevine51@bloomberg.net
To contact the editor on this story:
Zara Kessler at zkessler@bloomberg.net
Before it's here, it's on the Bloomberg Terminal.
LEARN MORE