Guerrilla Warfare at the Supreme Court
When the courts don't rule how you'd like, try a different tack.
by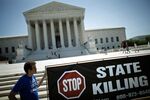 Is there a guerrilla war under way against the death penalty? Justice Samuel Alito proposed the idea Wednesday when the U.S. Supreme Court heard oral arguments about the use of the drug midazolam while administering lethal injections. The answer, to put it bluntly, is yes: Death-penalty abolitionists, unable to persuade either the public or the courts to prohibit the death penalty absolutely, rely on all the legal means available to them. Their arguments before the court are politics by other means -- Clausewitz's famous description of war.