Cameron's Big Mistake
The Conservative Party might be facing a reckoning.
by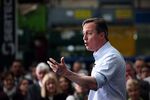 Britain's elections are just a week away, and psephologists and bookmakers agree: It's an unpredictable mess, with the most likely outcome a minority Labour government backed by Scottish nationalists. For this state of affairs, the ruling Conservative Party has itself to blame.