Friday Food Post: Simple or Cheap, But Not Both
Fewer ingredients? Great. But they have to be really good.
by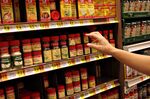 I don't need to tell you that food has fashions. Remember when every restaurant with any ambition had a spinach salad with pecans, goat cheese and some sort of onion shaving? That's now passé even in its last refuge, the twee cafes of Rust Belt suburbs. Or when truffles seemed to sprout from menus like, er, mushrooms, only to disappear almost as quickly, presumably off to hibernate in some subterranean darkness?