Why I'm Not Watching Mayweather-Pacquiao
Watching Ali fight was fun, but concussions are no joke.
by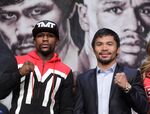 I really thought I wanted to see the fight this weekend. I expected to join millions of other sports fans in plunking down $100 to my cable provider to watch Floyd Mayweather and Manny Pacquiao pummel each other in what is being hyped as one of the great boxing matches in history.