Carinthia Won't Be the Next Greece
The bankrupt province will be saved, but creditors will take a haircut.
by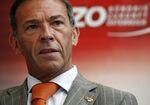 Carinthia, the tiny Austrian province that guaranteed 20 billion euros ($22 billion) of a bankrupt bank's debt, has been compared to Greece. On the surface, the situations are similar: Carinthia is overindebted because of a corrupt and irresponsible former government, it's run by a vociferous and determined leftist and it may run out of money by June without outside help. Yet the province won't cause a Greek-style crisis: The Austrian government will ultimately rescue it -- but not until it has worn down debt holders to limit its losses.