Bond Traders' Crazy Solution for Nonexistent Problem
Less transparency would make financial markets more turbulent.
by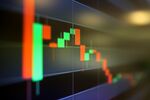 Lots of smart people are worrying about the next bond market meltdown. Government regulation and intervention, you see, have sapped what is known as liquidity; because the big banks have to keep more cash on their balance sheets, they're less willing/able (take your pick) to commit capital to trading. That could make it harder, so the nervous argument goes, for investors to sell when they need to. And that, in turn, could massively amplify price swings.
The recent dive in German bonds, under attack after renowned investors Bill Gross and Jeffrey Gundlach both suggested there's a ton of money waiting to be made by betting on a decline, is a useful market test of those widespread anxieties. So far, though, there's no evidence that those who want to offload their German bond holdings have had any difficulties, even though the sell-off has been precipitous.
Almost 50 percent of what investors could have made riding the rise in German bond prices since the start of the year has been wiped out since the slide began on April 20. Wednesday's descent, for example, knocked $61 billion off the value of euro-denominated government debt in a single day. Put another way, anyone who owned German bond futures saw about half of the profit they made in the previous 100 days disappear in just 10 days:

There's no question that bond liquidity is not what it was. JPMorgan, for example, reckons the U.S. government bond market is in its worst shape since the end of 2011:

But at least one of the solutions for the liquidity issue being proposed in a corner of the fixed-income market is simply crazy. U.S. corporate bond trades currently have to be reported within 15 minutes, to keep the market transparent. Some banks and fund managers are now suggesting the rule should be suspended for big trades to address the lack of liquidity, the Financial Times reported earlier this week. The newspaper cited Richard Prager, who runs trading at BlackRock, which happens to be the world's biggest fund manager:
We are very supportive of a delay in reporting on large blocks. It's the simplest and most elegant way of solving some of the liquidity challenge, with very little effort.
Hiding prices in times of turmoil is a recipe for disaster. At the start of March 2007, just as the credit crunch that would spark the financial crisis was starting to tighten, U.S. equities experienced a panic attack. As the word "Fire!" crept through the crowded theater of the stock market, the Dow Jones Industrial Average shed 178 points in 60 seconds. The sell-off was so fast that the computers that report prices couldn't keep up with the pace of trading; the New York Stock Exchange also suffered what it called "intermittent delays." The stock market eventually recovered, but there was a very shaky period where the drop was exacerbated by investor worries that correct pricing wasn't available.
In fact, the worst market crash of all time was made worse when prices became unavailable, as historian John Kenneth Galbraith explained in his book "The Great Crash 1929," published in 1954:
Prices fell farther and faster, and the ticker lagged more and more. By eleven o'clock, the market had degenerated into a wild, mad scramble to sell. Current values were far below the ancient history of the tape. The uncertainty led more and more people to try to sell. By eleven-thirty the market had surrendered to blind, relentless fear.
So try the following thought experiment. Suppose the digital screens investors rely on nowadays to keep track of markets couldn't keep up with what was happening to German bond prices, either because of a technical problem or because regulators had decreed that trades could stay secret during times of stress. It seems reasonable to assume that, if bondholders were kept in the dark, the sell-off would have been much, much worse.
Even if the large investment banks aren't making markets as actively as they used to, the lack of any symptoms of sclerosis as German securities tumbled -- the bund flash crash, if you will -- suggests the market is still sufficiently resilient to cope with a wave of selling. More transparency, not less, is the correct way to keep markets functioning efficiently.
This column does not necessarily reflect the opinion of Bloomberg View's editorial board or Bloomberg LP, its owners and investors.